KidSport Summer Camps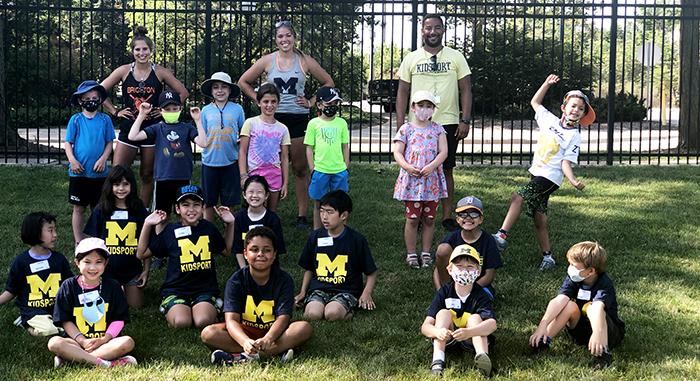 ABOUT KIDSPORT SUMMER CAMPS
KidSport Summer Camps offers children ages 4-12 the opportunity to learn and play a variety of team sports, individual sports, team building games, fitness and other physical education activities, in a non-competitive and fun sports environment. The activities are age-appropriate and developed by experts in children's physical education. KidSport Summer Camps are staffed by certified teachers, Health & Fitness and Education majors, University of Michigan students and athletes, and other highly qualified individuals focused on providing a first-rate experience for your kids!
Located in the heart of University of Michigan's campus, we will utilize Elbel Field and the U-M Sports Coliseum.
---
2023 REGISTRATION WILL BE AVAILABLE IN APRIL 2023.
---
KIDSPORT SUMMER CAMP DESCRIPTIONS
KidSport Mornings:  Ages 4-12, 8:00am-Noon 
Fun, action packed games, activities, fitness, team building, and sports.  A little bit of something for every kid! Campers will be grouped according to age. 
Lunch: Ages 4-12, Noon-1:00pm 
Supervised by KidSport Staff. Campers bring their own lunch and will be socially distanced either outside in the shade, or in the Sports Coliseum. Food is NOT provided. 
KidSport Summer Fun Afternoons: Ages 4-6, 1:00pm-4:00pm 
Each week, campers experience a brand new, active, and fun theme, filled with age appropriate physical activities, games, and crafts.
KidSport Athletics Afternoons:  Ages 7-12, 1:00pm-4:00pm 
Each week features a different sport, teaching basic, fundamental skills, rules, team building and sportsmanship. 
Aftercare: Ages 4-12, 4:00pm-5:00pm 
Supervised games and activities lead by KidSport Staff.