Lifetime Fitness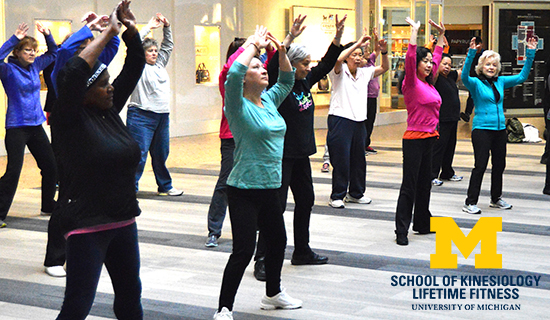 NEW! LTF @ Home
Kinesiology Community Programs is proud to announce LTF @ Home. We'll be offering the same classes, with instructors you've come to know and love, virtually, from the safety and comfort of your own home.
To register, click on the class below, and you'll be redirected to Eventbrite. The fee is $4 per class, purchased monthly. Upon registration, you will receive a confirmation email which includes your meeting ID and password for the month.
CHAIR YOGA: Mondays, 9-10am, with Gary V.
ZUMBA Gold: Wednesdays, 9-10am, with Geraldine (Jerry) P.
CHAIR AEROBICS: Fridays, 9-10am, with Peter K.
Download the SCHEDULE to see all of our Fall 2020 classes.
Have questions about Zoom? Check out U-M's Zoom information page:  umich.edu/communication/videoconferencing/zoom
ABOUT LIFETIME FITNESS
Due to COVID-19, we have suspended LTF classes at Briarwood Mall. We hope to return to Briarwood Mall as soon as it's safe to gather. In the meantime, please check out our LTF @ Home classes offered Monday, Wednesday, and Friday, virtually via Zoom. 
The Lifetime Fitness program is offered at Briarwood Mall in Ann Arbor, Monday through Friday from 9:00-10:00am, in the JCPenney Court. Classes are designed for senior adults, however everyone is welcome!
Monday, Wednesday, and Friday - Aerobics classes are carefully structured to include a warm-up, pre-aerobic stretch, sitting and standing aerobics, strength training, cool down, and a final stretch.
Tuesdays - Chair yoga, a gentle form of yoga that is practiced sitting on a chair, or standing using a chair for support, is offered. Benefits of chair yoga include improved strength, flexibility, proprioception, mental clarity, reduced stress, and pain management.
Thursdays - Zumba Gold class is held. You will dance to a fusion of Latin and international music at a modified intensity. It's a fun experience and great workout for all the elements of fitness: cardiovascular, muscular conditioning, flexibility, and balance. No experience necessary!
Make sure to check in with the instructor if you are joining the program for the first time so we can get some information, sign our liability waiver, and discuss modifications!
LIFETIME FITNESS NEWSLETTERS
YOUR DONATION HELPS KEEP US STRONG!
Lifetime Fitness classes are made available through the kind donations of its participants. Your donations are the sole source of funding to cover operating expenses. Thanks to you, Lifetime Fitness is able to pay its wonderful instructors, and purchase equipment or other materials, as needed. Please consider making a tax-deductible donation. A little means a lot! There are two ways to give:
Thank you!
Contact Us
Kinesiology Community Programs
401 Washtenaw, 3064 CCRB
Ann Arbor, MI 48109-2214
Phone: 734-647-2708
Fax: 734-647-6375