Apply to Graduate
As announced by President Schlissel, 2021 Spring Commencement will be taking place virtually. This year, the School of Kinesiology is offering two separate virtual ceremonies to honor both the Class of 2021 and the Class of 2020.
---
Commencement Speaker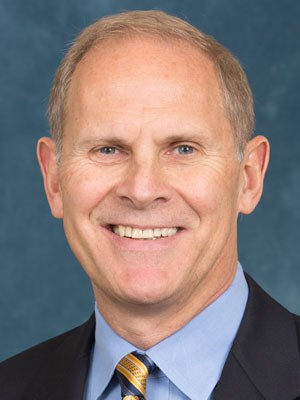 John Beilein
Former Head Coach, Michigan Men's Basketball

With four decades of college basketball coaching experience, Coach John Beilein is considered to be one of the best tactical basketball minds in the country.

Beilein has compiled a career record of 829-468 (.639) during his years as a collegiate head coach. He has recorded 20-plus win seasons on 23 occasions and has finished with a winning record in 35 seasons, placing him in the top 10 for career victories among active Division I head coaches.

Beilein has 20 career postseason appearances - 13 in the NCAA Division I Tournament, six in the NIT and one in the NCAA Division II Tournament. With the nine trips to the Big Dance with U-M, Beilein is one of 14 coaches to have taken four different schools to the NCAA Tournament - Canisius (1996), Richmond (1998), West Virginia (2005, '06), and Michigan (2009, '11, '12, '13, '14, '16, '17, '18, '19).

In 12 seasons in Ann Arbor, Beilein built the Wolverines into one of the nation's elite programs, taking U-M to a pair of national championship game appearances (2013, '18) while also becoming the winningest coach in school history.
Beilein teaches "Coaching as Leading and Leading as Coaching" at the U-M School of Education, and is featured in the U-M Center for Academic Innovation's "Leading Teams" course.
---
Kinesiology Class of
2021


Virtual Commencement Ceremony
Thursday, April 29, 2021
Eligibility
UNDERGRADUATE STUDENTS graduating in December 2020, May 2021, August 2021, or December 2021 are eligible to participate in the 2021 Kinesiology Virtual Commencement Ceremony. (Note: This is not the university-wide virtual commencement ceremony; December 2021 graduates are not eligible to participate in the Spring 2021 university-wide virtual ceremony.)
MASTER'S STUDENTS graduating in December 2020, May 2021, or August 2021 are eligible to participate in the 2021 Kinesiology Virtual Commencement Ceremony.
PHD STUDENTS should contact the Office of Graduate Student Affairs for participation eligibility.
Participation Checklist
Undergraduate Grade Conversions & Distinction Eligibility
Undergraduate students have until Friday, May 21, 2021, to make any grade conversions that would affect their GPA and potential eligibility to receive distinction. To learn more about distinction, please see pg. 55 of the undergraduate bulletin. For more about fall and winter grading, please read this FAQ.
More Information
---
Kinesiology Class of
2020


Virtual Commencement Ceremony
Saturday, April 24, 2021
Participation Checklist