Health & Well-Being
Your health and well-being are critical to your success as a student. We're proud to offer assorted resources at both the school and university level to help you balance your mental, emotional, academic, and social needs and goals.
School CAPS Psychologist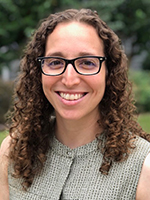 Erin Albert, PhD, LP, CMPC
edalbert@umich.edu
SKB 2365
Erin Albert is the embedded Counseling & Psychological Services (CAPS) psychologist in the School of Kinesiology. She earned her PhD in Counseling Psychology with a specialization in Sport Psychology from the University of North Texas, and completed her doctoral internship at the North Carolina State University Counseling Center.
In addition to being a Licensed Psychologist (LP), Erin is a Certified Mental Performance Consultant (CMPC), meaning she is trained to provide performance/mental skills training in addition to general mental health services. You can read more about her clinical work and approach on the CAPS website.
Erin is available Monday through Friday, 8am-4pm, and can provide Kinesiology undergraduate and graduate students with short-term virtual counseling (via phone or video) to help address mental health and other personal concerns. The initial appointment involves preliminary paperwork and consultation to determine the best way to meet your needs and identify appropriate resources.
If you are experiencing an urgent concern or crisis, please call the main CAPS line at (734) 764-8312 for 24/7 access to a counselor and more immediate care.
Erin will also be offering occasional outreach and educational programming tailored specifically for Kinesiology students. Be on the lookout for more information about these events, including one on stress and coping skills during a COVID-impacted semester. If your class or organization is interested in requesting an outreach event, you may email Erin or submit a request on the CAPS website.
If you're interested in longer-term therapy, CAPS has information on their website about finding a provider in the community. They also have resources if you'd prefer self-help at this time.
As a Kinesiology student, you can meet with Erin or with any other CAPS staff. Please review the staff bio page to see if a different counselor might be a better fit for you based on concerns/identity/schedule.
If you have any questions or would like to schedule an appointment with Erin, please email her at edalbert@umich.edu.
BetterYou App
The BetterYou app is available to all Kinesiology students. BetterYou is a digital coach that helps support your goals across all areas of wellness and spend time on the things that matter most. You set goals that are important to you in the areas of physical, social, educational, and mental wellness, and BetterYou runs in the background, providing gentle nudges and rewards (like Amazon gift cards, etc.) along the way that positively influence behaviors.
To participate, visit register.betteryou.ai and sign up with your umich email.
24-Hour Lines
Campus
Counseling & Psychological Services (CAPS): (734) 764-8312
Psychiatric Emergency Services (PES): (734) 996-4747
Sexual Assault Prevention & Awareness Center (SAPAC): (734) 936-3333
 National
Crisis Text Line: Text "4UMICH" to 741741, to connect to a trained crisis volunteer. You don't need to be in crisis to use this free, 24/7 service for support.
National Suicide Prevention Lifeline: 1 (800) 273-8255 or 1 (800) 273-TALK
Other U-M Resources
Counseling & Psychological Services (CAPS)
University Health Service (UHS)
Student Life
Rackham Graduate School
Other Resources