Health Sciences Mentorship Program
The Kinesiology Health Sciences Mentorship Program (KHSM) matches U-M Kinesiology alumni with students interested in health science careers. Alumni mentors can provide valuable insight into potential careers paths and give students meaningful advice.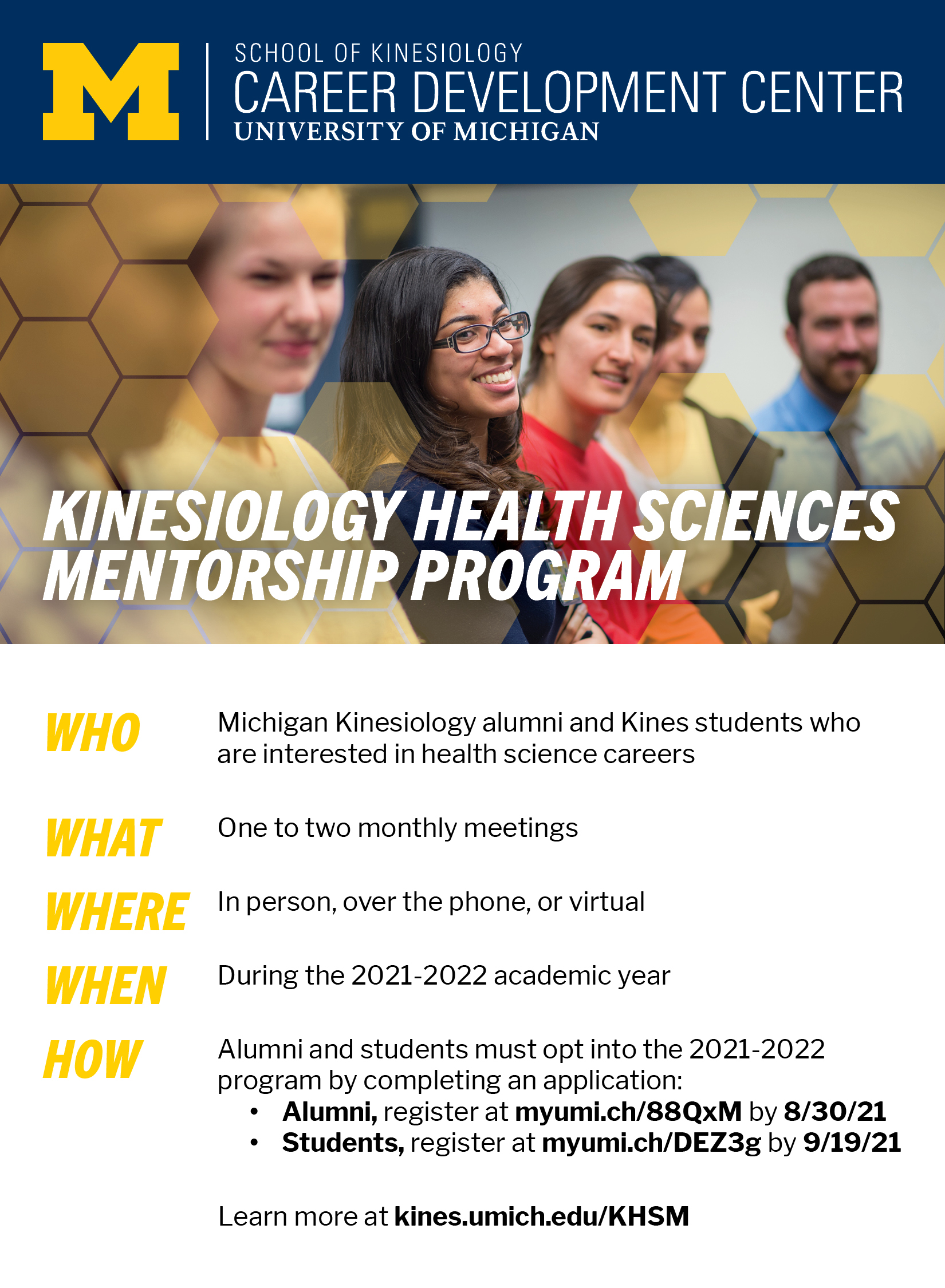 ABOUT THE PROGRAM
Connecting with alumni is an invaluable opportunity for students to learn more about the world of work in health sciences, build their networks, and practice professional skills. Alumni can look forward to sharing their professional expertise and personal experience with current Kinesiology students.
APPLICATION
Alumni and students must opt into the 2021-2022 program by completing an application:

PROGRAM ENROLLMENT
Based on a variety of factors captured in the registration form, including major, interests, student activities, career paths, etc., mentors will be paired with mentees as determined by the program administrators. While we will make every effort to pair the students with an alum who fits their desired career path, students should go into this program with a willingness to learn from any mentor. Even if the mentor does not fit their exact professional goals, they have valuable experience and information to share. Program administrators will not rematch pairs based on personal preference. Alumni should participate if they feel they can offer adequate time and valuable information to students.
The Kinesiology Career Development Center will email alumni and students notifying them of their acceptance into the program and the names and email addresses of their mentor/mentee the week of October 4, 2021.
The mentorship program will last the duration of the academic year (October to April).
INTRODUCTION EMAIL
Once the participants have been informed about their mentor/mentee pair, the student will be expected to email their mentor by the end of October.
The goal of this email is for the student to introduce themselves and to set up the initial meeting. Be sure to exchange your LinkedIn profile, bio, or resume to get a sense of each other's backgrounds.
Please contact the Kinesiology Career Development Center at KinesCareers@umich.edu if you are unable to connect with your student or alumni near the end of October.
INITIAL MEETING
The goal of the initial meeting is for the mentor and mentee to get to know one another and gives the student an opportunity to practice their communication skills and informational interview techniques. The conversation can be in person, over the phone, or virtual and should last about an hour.
The student should have prepared questions in advance to ask the alumni about their specific field and experiences. Additionally, the student should be prepared to talk about their background and experiences.
Before wrapping up, discuss when the next meetings will occur. Setting up recurring meetings may be helpful.
ADDITIONAL MEETINGS & ONGOING COMMUNICATION
The mentorship connection can be carried out as the mentor and mentee see fit. One to two follow-up meetings per month are encouraged. The length of follow-up meetings can be mutually agreed upon.
Email correspondence is also encouraged. Please be respectful of each other and follow up with emails in a timely and professional manner.
As the mentorship relationship develops, alumni should consider ways they can encourage students to grow as young professionals. This can include sharing their knowledge of career options, professional development opportunities, and communication etiquette, as well as encouraging students to self-reflect on their strengths, interests, skills, etc.
While the program officially ends in April, alumni are welcome to continue mentoring their student(s) as long as they are willing and able.
PROGRAM EVALUATIONS
A midpoint evaluation will be sent to program participants in December as a way to share positive experiences and opportunities for improvements in the program. Comments and suggestions are appreciated.
Final evaluations will be sent out in April.
TIMELINE FOR 2021-2022 PROGRAM
August 30: Alumni application deadline
September 19: Student application deadline
By October 8: Mentor/mentee pairs notified
October: Initial meeting occurs
November-April: Recurring meetings
December: Midpoint evaluation
April: Final evaluation