Jake Goldberg Memorial Scholarship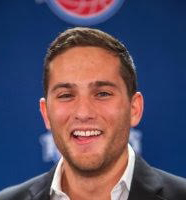 Jake's love of sports played a central role throughout his life, both as a participant and a fan. From early on, his goal was to work in the sports industry. That passion led him to the highly regarded U-M Sport Management program where, along with being an avid Wolverine supporter, he was an engaged student and demonstrated his leadership skills as president of the Sport Business Association (SBA). Jake credited the SM program with providing him an opportunity to pursue his dream and begin his own career working at the Detroit Pistons.
Despite his too short life, Jake touched many people and impacted their lives in a positive way. To many of his peers, Jake was a loyal friend, leader, mentor, and support system, helping to make the Sport Management program feel like home. We are creating the scholarship to celebrate Jake's memory and to help students with limited financial resources realize their goal of a degree in Sport Management and a career in the sports business world. The scholarship will continue Jake's legacy, paying it forward by helping others achieve their goals.
--Gene Goldberg and Amy Lazarus
Parents of Jake Goldberg, SM '16
"
Jake was a genuine, caring, hard working, funny individual. He cared deeply about the success of others and was a champion of fostering community within the Sport Management program. More important than his actual work was his ability to mentor and listen. He was a dependable friend to many and a role model for all of us to be better, more compassionate people."
To learn more about the scholarship and how you can support our efforts to honor Jake, we invite you to contact Louis Perdue, Associate Director of Development, at (734) 615-9678 or perduel@umich.edu.