Alumni Society
Welcome to the Kinesiology Alumni Society!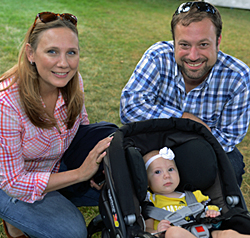 As U-M Kinesiology students, you and I had the educational experience of a lifetime. We benefited from amazing degree programs… high-impact faculty research projects… hands-on learning opportunities… internships… mentoring… and the camaraderie that comes from being part of a close, family-like educational community.
During our student days, we developed a powerful connection to the school and each other. That connection doesn't end with graduation. In fact, graduation is just the beginning.
Thanks to the Kinesiology Alumni Society (KAS), you can maintain an active, lifelong association with our school. You can stay engaged. Meet fellow alums in your city and your state. Develop a worldwide professional network. Keep up with campus news and events. Stay in touch with classmates. Mentor students. And pay it forward by supporting the school as a volunteer and donor.
Keep your connection to Kinesiology strong. Get involved with KAS today!
-- Robert Haddad, SM '98
Past Board Chair, Kinesiology Alumni Society
About KAS
The first Kinesiology Alumni Society meeting was held on April 9, 1992, when it was agreed that the Division of Kinesiology would form a formal "Alumni Society." It included the following alumni:
Clare Canham-Eaton 
Don Eaton
Ruth Harris
Dick Honig 
Larry Katz
Sheryl Szady
Since its formation, with the active support of alums worldwide, KAS has expanded its alumni programs and activities to include:
Game watches
Group tickets to sporting events
If you've ever been enrolled in Kinesiology, or in the School of Education (PE) prior to 1984, you're automatically a member of KAS -- even if you didn't earn a degree!
The KAS Board of Governors meets regularly to help determine future activities benefiting all Kinesiology graduates. Learn more about the KAS Board.