Back to News
Cool Jobs
From star soccer player to collegiate coach to athletics consultant
Alum Abby Minihan (SM ' 03) shares how turning down an offer to play for her country led to starting her own consulting company.
In 2000, when Abby Minihan (SM '03) was a sophomore in college, she received one of the most important invitations of her life: an offer to play on the U.S. women's national soccer team.
A year earlier, the U.S. women had won the Women's World Cup — only the third time the tournament had been held — in front of a record-setting crowd at the Rose Bowl in Pasadena, California. 
It was the era of Mia Hamm's prolific goals and Brandi Chastain's iconic moment, when the defender pulled her shirt off in celebration after scoring the definitive penalty kick in the final game.
American women's soccer had arrived on a global stage. And Minihan was being asked to star on it.
Minihan hadn't yet become U-M soccer's all-time leading goal scorer or the Big Ten Women's Soccer Athlete of the Year or a finalist for the Hermann Trophy, which honors the top collegiate soccer player annually. 
Her sophomore season was "not great," she says, compared to what she'd go on to achieve, and she was still trying to figure out her major, which she needed to declare at the end of the year. Playing on the national team felt like too much of a spotlight, too much pressure, while she was going through growing pains as an athlete and as a young adult.
"You didn't have all the coaching and psychological training that athletes now have," Minihan says now, from her home in South Carolina. "Those weren't things we had back then. We didn't start working with a sports psychologist until my senior year. So you're just going off of the little awareness you have of yourself as a 20-year-old." 
So she turned the offer down.
It wouldn't be the last time she'd reject the U.S. national team. When they came calling again a few years later, after Minihan had done a stint in a fledgling women's professional league, she said no again. It's short notice, she told herself. I'm not in good enough shape. I'm not ready.
"I don't really think it registered with me how good I was," Minihan says. "I knew I was good. But I don't think I knew I was great."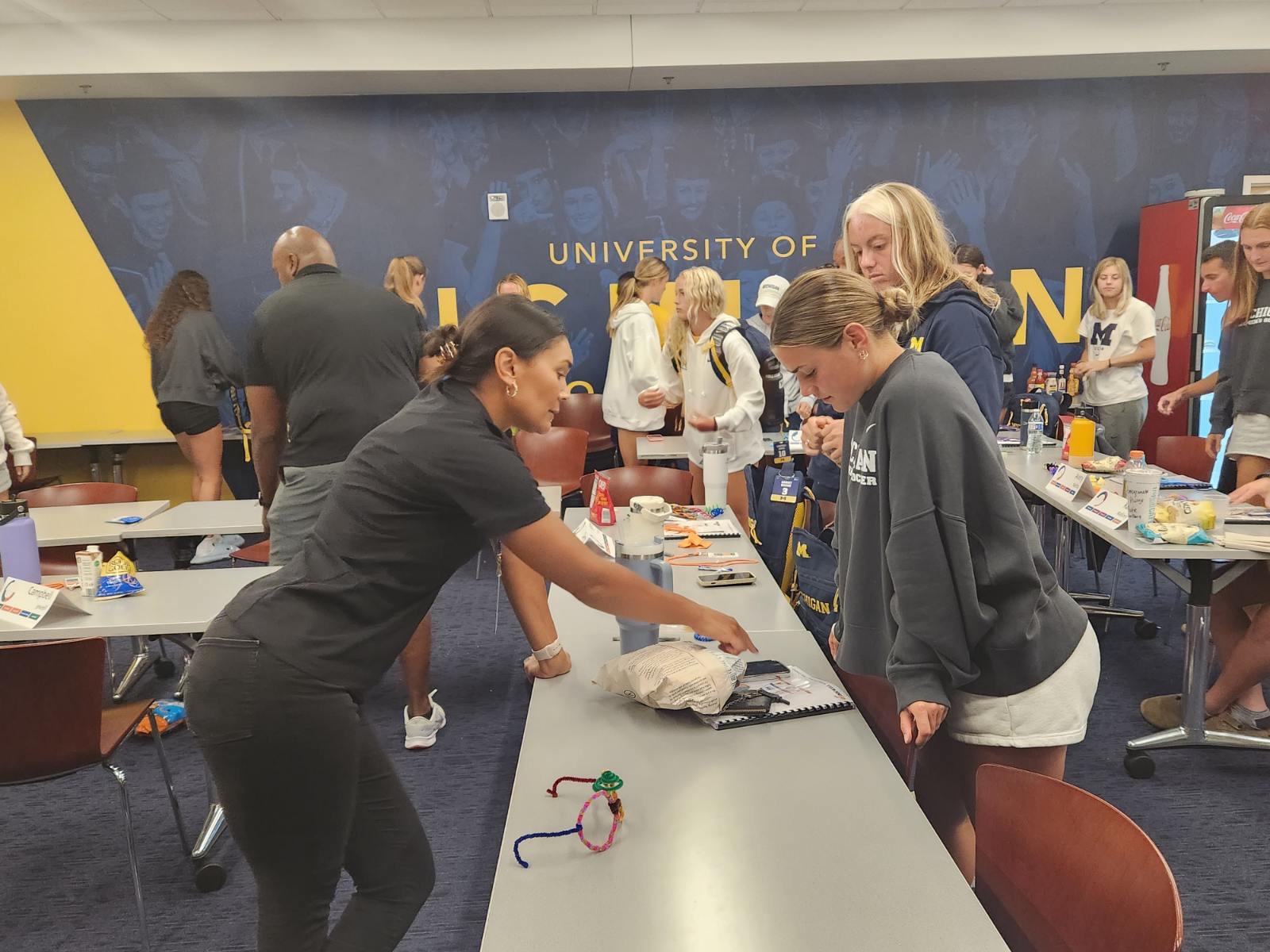 A coaching ethics class was one of the Kinesiology courses that had convinced Minihan to major in sport management, and she'd fallen in love with coaching even further when she coached a high school soccer team for extra money while still in college. So, instead of joining a roster of household names, she coached collegiate soccer at several universities, ranging from Division III Pittsburgh-Bradford to Syracuse University to her alma mater. 
She realized that, to coach well, you need to understand the game, of course. But you also need to know how to work with people and navigate relationships and develop a team. This type of knowledge — or even opportunity to gain this knowledge — was lacking at most universities, which don't have the time, resources, or money to provide such professional development.
"Most universities' HR departments don't really know what to do with athletics from a development side because it's its own beast," Minihan says. "Everywhere I went, there was no learning."
The recognition of such gaps gave Minihan the seeds of her future career. After obtaining a master's degree in human resource development and beginning her industrial organizational psychology doctorate, she started a consulting business, Inkwell Sports Solutions, through which she offers professional development programs for coaches at high schools and universities.
And she hasn't forgotten about the athletes. One of Inkwell's flagship products is a six-week virtual program called Powerhouse Athlete that helps high school athletes become more aware of their strengths and behaviors and come up with solutions to manage their stress.
"Sports psychology is about, 'How do I get you to perform better?'" Minihan says. "The way I'm approaching it is, 'How do I help you become more aware of who you are so you can understand how to leverage this in your performance?,' for both coaches and athletes."
Looking back, she thinks this sort of training would have helped her feel more comfortable accepting the "tremendous opportunity" she'd been given to join the national team.
"When I look at the people on that team who are having success, I played with all of them," Minihan says, referencing her club and professional career. "So there's a part of me that's like, 'Man, I definitely could have done that.'"
"Had I had more clarity on my ability and who I was as a person and what I was bringing to the table besides my performance, I think I would have absolutely said yes," she continues, "because then it wouldn't have been as much about how well you're playing during these four days you're in camp or these four days of a tournament. It's more about what you're bringing to the table as a person, as a potential player for this team."
She doesn't regret her decision; if she'd taken the offer, she says, she might not be doing what she's doing now. Every Sunday night, when she gets off her Zoom calls for the Powerhouse Athlete program, having witnessed teenagers feel less alone in their struggles, she feels at peace.
"I'm in my lane," Minihan says. "I'm in my space. It feels right, to be able to give something to these kids that would have been so helpful for me."
Last year, Minihan received another special invitation: to fly back to Michigan so she could be inducted into the University of Michigan Athletics Hall of Honor.
In commemoration of the 50th anniversary of the passage of Title IX, this was the first Hall of Honor class made up solely of those who had been female athletes or coaches of women's teams at U-M.
"The award just felt like alignment," Minihan says, "almost like it was an outward representation and honor of the work I've been doing inwardly and the work I've been doing in my business. The timing was really perfect."
When Minihan had played soccer in college, she'd always felt like it didn't matter how well she played if the team didn't win. If they weren't achieving together, the experience was "empty," she says.
So she invited her U-M teammates to attend her induction ceremony. Many came, flying across the country, leaving behind jobs and families for a night to support and celebrate their former captain.
"Obviously, the award is amazing and such an honor, but having them all there took the whole thing to another level," Minihan says. "Because they were a part of it, too. I didn't do it alone."