Commencement
Information for families and guests of graduates
Jump to:
Commencement Speaker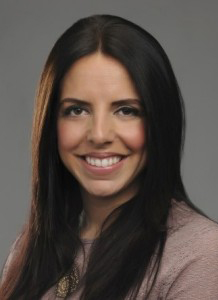 Carrie Brzezinski-Hsu
Vice President, ESPN CreativeWorks
Carrie Brzezinski-Hsu is vice president of ESPN CreativeWorks, ESPN's in-house creative agency focused on connecting brands with fans by developing creative and innovative multiplatform opportunities geared specifically to ESPN's audience. A 14-year media industry veteran, Brzezinski has been with the company for six years, driving the development of many successful marketing programs.
In her role, Brzezinski-Hsu leads all sales marketing for ESPN's internal creative agency, CreativeWorks, while managing the sales marketing teams for ESPN The Magazine, espnW, ESPN news and information shows as well as SportsCenter.
Brzezinski-Hsu has spent her entire career in the media industry, generating effective marketing programs for various brands across all platforms. At ESPN, she has developed new assets, content platforms and intellectual property to integrate client messages with the ESPN brand while leading a team of more than 30 employees.
Brzezinski-Hsu holds a bachelor's degree from the University of Michigan, where she majored in organizational studies with a focus in advertising and marketing. She serves on the U-M School of Kinesiology Sport Management Advisory Board.
Photography
Call Photography will take multiple pictures of each graduate as they cross the stage, and then email them a free color proof of their photos. There is no obligation to buy.
Additionally, there will be a professional photographer taking candid shots of the ceremony; these photos will be available for free download on the School of Kinesiology Flickr account a few days after the ceremony.
 
Livestreaming & Recording
The Kinesiology 2020 Spring Commencement Ceremony will be livestreamed on Thursday, April 30, beginning at 4:30pm. (Link coming soon.) A recording of the ceremony will also be available on the school's YouTube channel after Commencement.
Day of Event Timeline
3:30pm - Graduates arrive at Hill Auditorium (enter from EAST entrance off Ingalls Mall), proceed to the balcony level (third floor), visit the registration tables, and are directed to the processional staging area
3:45pm - Doors open for guest seating in the auditorium
4:15pm - Graduates line up to begin the procession
4:30pm - Commencement begins promptly with procession of graduating students
6:30pm (approx.) - Reception in the Michigan League Ballroom (although there is no way to predict the exact end time of the ceremony, 6:30pm should be a reasonable approximation and most guests typically leave the reception by 7:30pm)
Day of Event Information for Families & Guests
The doors open at Hill Auditorium at 3:45pm.

No tickets are required and it is general seating.

Guests should be seated by 4:15pm at the latest.

Guests are requested to remain seated throughout the program.

The University of Michigan wants to ensure that all graduates, candidates, and guests can participate fully in graduation. If you have accessibility needs, please complete the Accommodation Request Form by April 1. Guest(s) with mobility limitations (wheelchair, walker, etc.), please arrive 3:30pm so you can be seated before we open the doors to the general public. By entering Hill Auditorium from the WEST entrance (off Thayer), you will be nearest the ramps into the auditorium. Ushers will be available to assist in locating wheelchair-accessible seating and restrooms for guests. A Sign Language interpreter will sign the entire ceremony.

All graduates, their families, and friends are invited to attend the School of Kinesiology reception immediately following the Commencement ceremony. The reception will be in the Ballroom on the second floor of the Michigan League – located directly across Ingalls Mall from Hill Auditorium. Staff will be available after the ceremony to direct you to the reception.
FAQs