Back to News
Roger Zatkoff, a friend to the School of Kinesiology, passes away at the age of 90
Roger Zatkoff and his family's scholarships have impacted nearly 200 U-M students over the last 15 years.
The School of Kinesiology lost a dear friend and benefactor when Roger Zatkoff passed away at the age of 90 in November 2021.
Roger received a U-M football scholarship in 1949 and was a three-year letter winner. He played in the 1951 Rose Bowl and was named an All-Big Ten player in 1952. The Green Bay Packers drafted Roger in 1953, and he became a three-time Pro Bowler during his time there.
According to his granddaughter Ashley Plamp, Roger negotiated a trade to the Detroit Lions in 1957 to be closer to his family. Roger's wife,  Ashley's grandmother Elaine, was eight-and-a-half months pregnant when Roger was traded from Green Bay to Cleveland. Roger vetoed the trade and got the NFL commissioner on the phone to broker a deal with Detroit.
He helped the Lions win the team's last NFL Championship in 1957 (defeating Cleveland in the championship game) before retiring in 1958.
In 1959, Roger and Elaine started Zatkoff Seals & Packing out of the basement of their Redford, MI, home, often packing and selling O-rings with the help of their children. Now, second-and third-generation family members run the business, which has grown to nine national branches, 200 employees, and has become the largest seal distributor in North America.
"My grandfather always believed in taking care of his employees, and it means so much to us that we have some of our employees' children join us," Plamp said.
Roger returned to U-M in 1964 to complete his degree in Physical Education.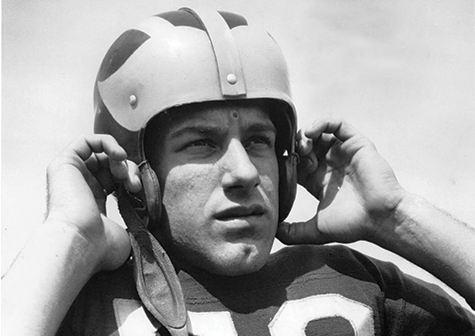 In 1985, he was inducted into the University of Michigan Hall of Honor. U-M established the Roger Zatkoff Linebacker Award, presenting it to the most outstanding linebacker after each football season.
"When I hear the term 'Michigan man,' I think of my grandfather. He wore his Michigan letter winner ring every day. He didn't wear a wedding band, but he wore his Michigan ring every single day," Plamp said.
Roger and Elaine were known for their lifelong generosity to U-M and other local non-profits.
In addition to creating multiple School of Kinesiology scholarships, Roger and Elaine created at least one endowed scholarship for every U-M varsity athletic team. Due to his generosity, Roger was awarded the School of Kinesiology's Dean's Medal and the university's David B. Hermelin Volunteer Fundraising Award.
"He always talked about how much of a chance U-M took on him in giving him a scholarship. That was just such a big part of who he was; always wanting to pay forward the opportunities they were provided," Plamp said. "I could not think of two people who were more proud to wear maize and blue. When we were looking for pictures for his funeral, you couldn't find him in a shirt without a Block M on it."
"Roger and Elaine Zatkoff, indeed the entire Zatkoff family, have made a deep and lasting impact on students and athletes," said Louis Perdue, associate director in the School of Kinesiology's Office of Development. "Over the last fifteen years, nearly two hundred U-M students have received support through their multiple scholarships. Each year, $800,000 in scholarships is awarded from the funds they created."
"Additionally, Roger became a friend to me over the years I got to know him. I will cherish the moments I spent with him, the multiple lunches, and hearing his incredible life stories," Perdue added.
Plamp said that Roger loved meeting his scholarship recipients, and would go so far as to scan the thank you letters he received to share with his family.
Most recently, he and the family made a sizeable donation to the U-M Concussion Center to help fund concussion research, and it was his wish to donate his brain after passing away.
"He would always say 'I rang a few bells, got my bell rung a few times, and I'm okay at the age of 90, but I know so many other guys younger than me who aren't,'" Plamp said. "He was passionate about helping future generations and wanted to do whatever it took to improve the sport because what he didn't want to see was football go away."
Ann Arbor always held a special place in Roger and Elaine's hearts. According to Plamp, some of their fondest memories of their newlywed and early family days were in Ann Arbor, whether it was Elaine pushing her daughter Sandy around Burns Park or Roger learning to drink coffee without milk.
"They were such leaders, but they always led with love and were huge influences. Even though they had a big family, they made us all feel special," Plamp said. "We're proud that we can continue the Zatkoff Family Legacy Fund. We look forward to upholding [Roger's] legacy at U-M and honoring his wishes there."