Back to News
AES program grows exponentially since inception
Over the past four years, the University of Michigan Applied Exercise Science program has evolved into a highly sought-after major, with a 355% increase in student applications. That evolution was more than 150 years in the making.
The University of Michigan Physical Education (PE) program began in 1870 and enjoyed robust enrollment until the 2010s. Although the quality of the U-M PE program remained high, undergraduate enrollment declined significantly year over year, both at U-M and at universities across the country.
As a result, school leadership recommended transitioning the program's focus from K-12 physical education to more comprehensive physical activity, health, and wellness education and research. In spring 2013, the U-M Board of Regents approved the transition of PE to Health and Fitness (HF).
HF faculty quickly realized that a number of required courses, some mandated by state certification requirements for the former PE curriculum, were no longer relevant for the HF major. Using data on current and future employment demands for health, fitness, and wellness professionals and input from leaders in the health and fitness industry, the HF faculty created a revised curriculum with a new name. The Michigan Association of State Universities (MASU) approved the curriculum for Applied Exercise Science (AES) in fall 2018.
The AES program provides applied interdisciplinary training in the foundations of the scientific understanding of exercise and health through the lifespan. Students engage in study that is certification-based and practice-oriented: courses and practical experiences directed toward certification by organizations such as the American College of Sports Medicine (ACSM) or the National Strength and Conditioning Association (NSCA).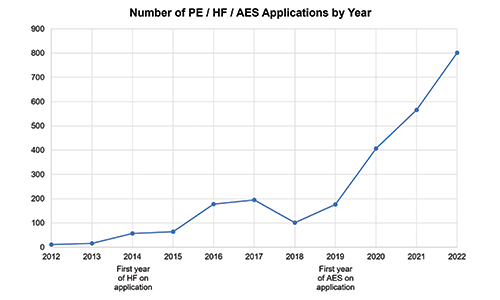 In their first two years, AES students learn fundamental concepts to address the breadth of content in the health and fitness industries. This approach helped AES senior Ben Jacobs discover his passion. Coming into the program, he thought he'd focus on athlete exercise physiology. But as he learned more in his classes, "I wanted to completely flip what I thought I wanted to do with [my degree]," Jacobs said. He spent the past summer interning with the Michigan Medicine Cardiac Rehabilitation Department. "I'm working under a group of clinical exercise physiologists," Jacobs said. "[We're] using exercise as rehabilitation as medicine to help people with peripheral artery disease, or recovering from any kind of heart surgery, get back their functional fitness and be able to live their lives the way they want to."
In their last two years, AES students choose between two tracks, clinical and management, to specialize their required coursework, internships, and field experiences. AES senior Ericka Vanderlende likes that the program takes advantage of the course offerings in the Movement Science and Sport Management programs. "My first semester here I was actually in Sport Management. I switched [to AES] my second semester," she said. "I think learning that you could mix a lot of things together, and still have a successful career, is what drew me to [AES]. Sport Management and Movement Science are two very different things, but they found a way to kind of combine them with AES."
The program's more open structure enables students to complete minors, take courses outside of Kinesiology, and study abroad. Jacobs thinks this flexibility is one of the best parts of AES. "There's so many different options and there's so many different ways that you can go with [AES]," he said. "It's just great for coming into college with a general concept of what interests you and then as it goes on, figuring out specifically what you want to do with it."
Ultimately, the AES program prepares students to work in the private or corporate fitness industry, community-based fitness organizations, and university or hospital settings. And graduates have a lot of experience under their belts already when they join the workforce. "This major gives you a lot of room for potential careers," said Vanderlende, whose most recent internship focused on worksite wellness. "Having the internships as a requirement definitely helps get your foot out the door into the real world. And helps kickstart things that can come to fruition after you graduate."